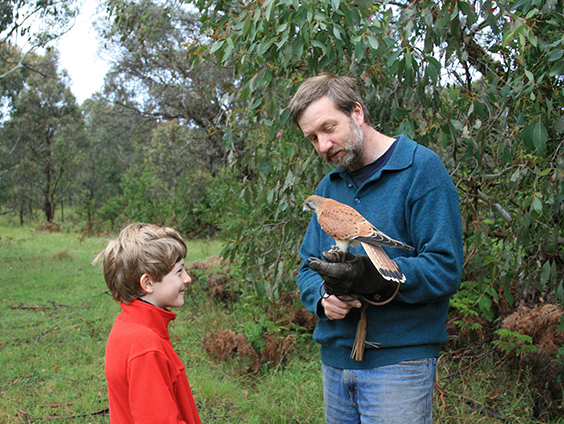 Leigh Valley Hawk and Owl Sanctuary allows people of all ages, but particularly school-aged students, to experience a close encounter with trained yet 'wild' creatures, affording them a rare opportunity to understand and feel an affinity for the natural world and wild creatures on a much deeper level based on a direct face-to-face experience.  Our aim is to provide informative shows with underlying themes of conservation of native biodiversity, ecology and sustainable living.  Birds of prey are excellent ambassadors for conservation and our displays provide people with the opportunity to witness these creatures at close range and observe them demonstrating their natural behaviour – in flight.
The need for environmental education is more important and urgent than ever before.  We live in a period of history where society has never been better informed about environmental issues – climate change, pollution, urbanisation, land degradation –  and yet environmental problems continue unabated.
Despite access to information on environmental issues, people are becoming increasingly isolated and disconnected from the natural world that we inhabit and share with a wealth of other species.  Many people believe that it is our very technology and way of life that has created this dilemma.  For example, 'Nature deficit disorder' is now a recognised syndrome according to Audubon medal recipient, Richard Louv.  His review of recent research confirms that direct exposure to nature is essential for the physical and emotional health of children and adults. "The future will belong to the nature-smart—those individuals, families, businesses, and political leaders who develop a deeper understanding of the transformative power of the natural world and who balance the virtual with the real. The more high-tech we become, the more nature we need."
Many anthropogenic processes now threaten the stability of the natural world on which all creatures, including humans, depend and we believe it is essential that the next generation of people understand and, importantly, feel the need for action on biodiversity conservation.  Our programs with trained diurnal and nocturnal birds of prey can assist to re-create and reinforce our much needed connections with the natural world.