Displays for schools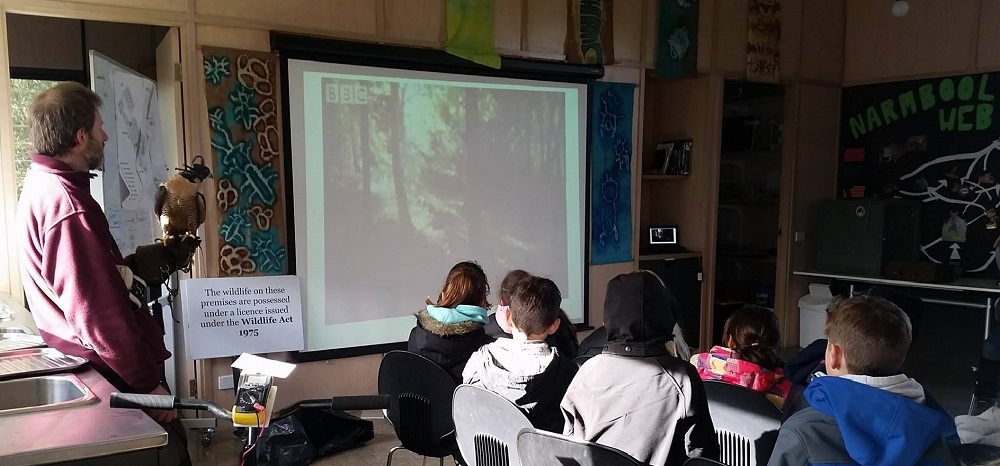 We offer a range of educational programs to school groups.  Currently, our displays are incorporated into existing programs at Narmbool Environmental Learning Centre, Ecolinc and Kryal Castle.  We also offer school incursions where our staff and birds visit primary and secondary schools to deliver a range of interactive programs.
Our programs are aligned with the following learning areas of the Australian Curriculum: English; Civics & Citizenship; History; Science; Technologies; Critical & Creative Thinking, and Ethical Understanding with accompanying resources upon request. Please inform us prior to the display of the learning outcomes relevant to your students, so we can ensure they are covered on the day.
Our school programs can be booked for groups of up to 40 students at a time, depending on the size of the venue and facilities.
Meet the Beaks
Meet an awe inspiring bird of prey from the Leigh Valley Hawk and Owl Sanctuary – face to beak! Martin and his team will introduce you to the fascinating world of diurnal birds of prey (and teach you the meaning of words like 'diurnal'). Learn about the threats these birds face and how we can help them to survive. Witness first-hand the behaviour and remarkable adaptions of one or two of our beautiful birds.
Display format: Indoor bird of prey talk and display; 1-2 birds
Duration: 45 minutes plus question time
Click here for the pricing schedule
Full Raptor Experience
Meet 2-4 birds of prey, ranging in size from a Nankeen Kestrel to a Wedge-tailed Eagle, in our dramatic raptor presentation which focuses on exhibiting their natural behaviour. Learn about, and experience for yourselves, the unique adaptions these remarkable creatures utilise in their predatory way of life as they go through their paces. 
Display format:  This presentation requires a spacious environment and is ideally suited to a quiet outdoor area or a large indoor space, such as a hall or gymnasium. 
Duration: 45 minutes plus question time
Click here for the pricing schedule
Those Outstanding Owls
Available during the day or (for full impact) as an evening presentation, we take you into the mysterious nocturnal world of owls. You will meet 1-2 owls from our Sanctuary in this special presentation and learn about their habitat, how they hunt and their preferred prey. Feel what it's like to be the prey of a Barn Owl or Southern Boobook as it swoops silently through the air.
Display format: Indoor presentation with our magnificent owls
Duration: 45 minutes plus question time
Click here for the pricing schedule
Additional information
All staff who visit schools have Working with Children checks.  

A Risk Assessment for your school can be downloaded here.