Kestrel Craziness! – November 2020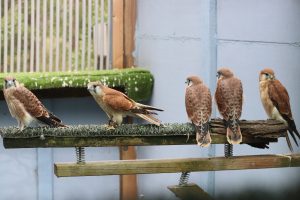 Spot the babies in the photo above. Impossible to tell from this angle, but two of the Kestrels are the parents, Needles and Paris, both of whom came to us from the Northern Territory in 2019. Within one year of these two 'Northerners' arriving, we decided to take a chance and see if they might like each other enough to breed. So, we put them into our breeding enclosure. To our surprise and amazement, at the tender age of one year old, Paris and Needles laid four eggs and all four hatched. Whats more, they both proved to be ardent parents, and raised all of their chicks successfully. As we were totally new to this experience ourselves, we were grateful to reach out to breeding advisors, Molly Watchorn and Linda van Durren for their advice and support.
Two of the progeny moved on to interesting lives at Healesville Sanctuary and Ballarat Wildlife Park. The remaining two babies, Dandelion and JK, are now in training to become part of our ever growing Kestrel team.